Kopke - A Masterclass in Blending Port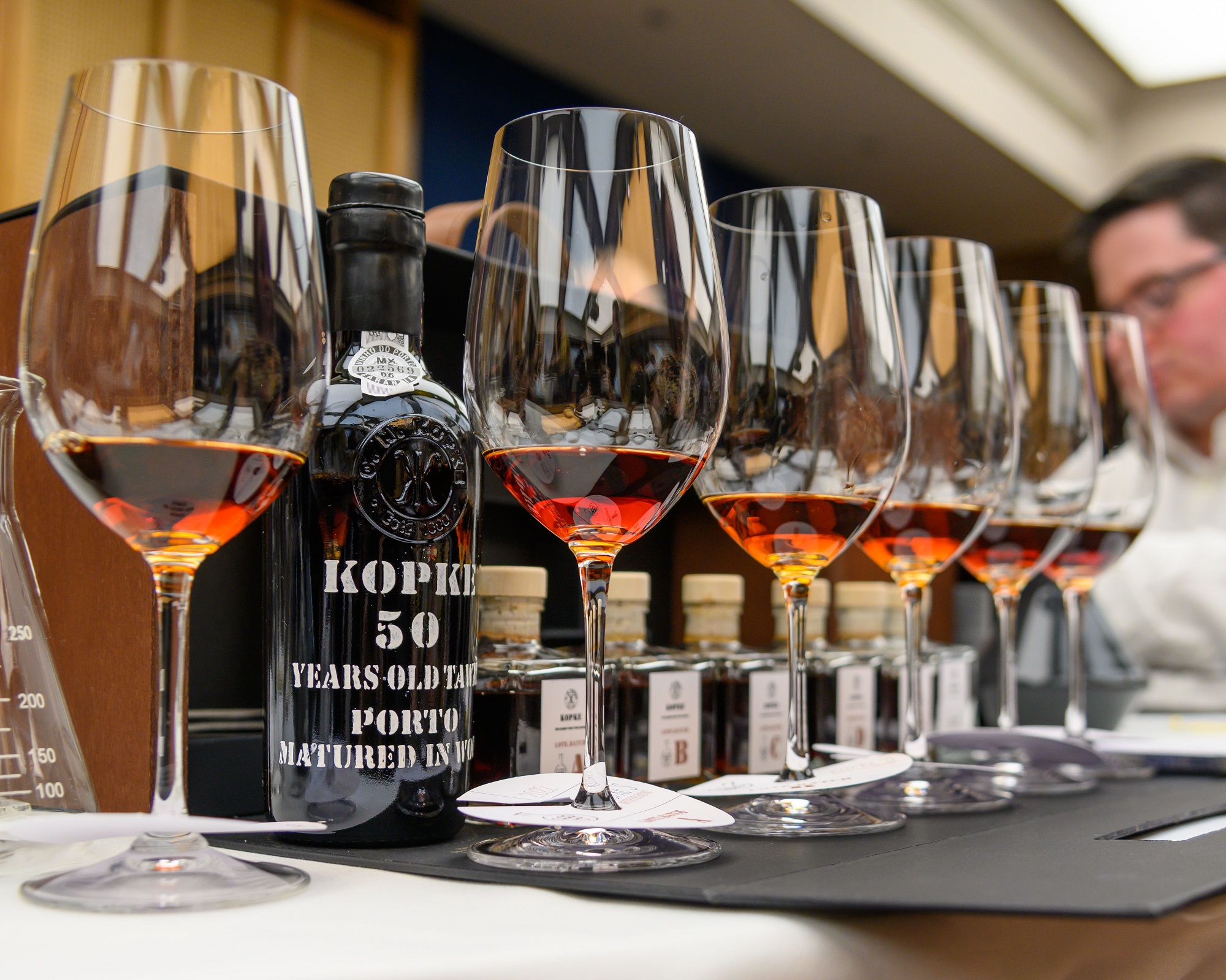 The fortified wines of Portugal have long been the country's calling card. Long-lived, deliciously rich and powerful, Kopke is a stand out name in the history of this much-loved fortified tipple. Hedonism Wines were delighted to be invited to the masterclass led by Kopke Master Blender, Carlos Alves, in conversation with Dirceu Vianna Junior MW, for a celebration of the art of blending Tawny Ports.
A brief introduction to Kopke
Established in 1638, Kopke is universally recognised as the first Port House in the history of the industry and has an incredible reputation for producing barrel-aged Tawny Ports of profound quality. The Kopke story starts with German businessman, Nicolau Kopke, who established a trading company to export Port to Hamburg. Then in 1781, the purchase of a vineyard in the Douro valley marked Kopke's shift from trading company to major wine producer.
Boasting half a century of history, the fortified wines of Kopke are truly unique, crafted by the Master Blender into unique expressions of the Douro. Recent years have seen a dramatic increase in market demand for Tawny Port styles, and Kopke are paving the way in this regard. A new Port category was introduced in January 2022, namely 50 Year Old Tawny, a style which we explore in greater depth below.
What is Port and where is it produced?
Port is produced in Portugal's Douro valley, situated in the north east of the country. The region boasts a warm, continental climate, together with the influence of the River Douro and the Atlantic Ocean. Port is a sweet, fortified wine with a history that dates back to the 17th century. Key Port Houses include Kopke, Cockburn, Churchill, Dow, Croft and Fonseca to name but a few.
Vines are planted on the steep slopes of the Douro, making for low yields and meaning that most vineyard work is done by hand. The Douro is home to an incredible diversity of grape varieties – with over 100 different varieties permitted in Port production. For White Port styles, some of the key grape varieties include Viosinho, Folgasão, Rabigato and Arinto. For Ruby and Tawny styles, notable varieties include Touriga Franca, Tinta Roriz, Tinta Barroca, Touriga Nacional and Tinto Cão.
What are the key styles of Port produced?
Port is an exciting category of fortified wine to explore, as the plethora of styles on offer truly do offer something for everyone. Styles include Basic Ruby and Basic Tawny, Reserve Ruby and Reserve Tawny, Tawny with an Indication of Age, Colheita, Vintage, Crusted, Rosé, Single Quinta, White (Reserve, Colheita, Age Statement).
Here are a few of Hedonism Wines' favourite picks from Kopke:
Kopke 10 Year Old White Port – Made using a blend of local Portuguese grapes including Viosinho, Folgasão, Rabigato and Arinto. A complex, full-bodied style with plenty of orange peel, toasted nuts, caramel and stone fruit on the nose. The palate is structured with good tannins and acidity on the palate, concluding on a wonderfully lingering finish. The perfect match for a well-curated cheese board.
Kopke 30 Year Old White Port – A wonderfully exciting find from Kopke. Vibrant yellow-straw colour in the glass and deep and rich on the nose, with notes of walnut, dried fig and wild honey. Delicate, complex and velvety in the mouth, with polished tannins and beautiful natural acidity, concluding on a powerful and persistent finish.
Kopke Colheita – World-renowned Ports that are made from a singular harvest, and aged in wood for as long as possible. These can be both Tawny and White styles. Explore some of the exciting Tawny Colheita we stock on our shelves including special finds from 1975, 1980, 1987 and 1998.
Kopke CNK - A limited release of an exclusive Very Old Tawny Port to celebrate the memory of founder, Cristiano Nicolau Kopke. An exquisite blend of wines from the 1920s and 30s, with the addition of the extraordinarily rare Colheita 1900 and an overall average age of over 90 years.
Introducing the 50 Year Old Tawny
This new category was officially approved and introduced by the industry's governing body, the IVDP (Instituto dos Vinhos do Douro e do Porto) in January 2022. Hot off the press, Kopke's masterclass gave the Hedonism Wines team the chance to try this beautiful new tawny style.
The wine is produced from traditional Douro varieties grown at an altitude of up to 600m. Hand-picked at optimum ripeness, fermented in traditional granite troughs known as 'lagares' at 28-30°C to produce a wine, which is then fortified with the addition of 'aguardente' (brandy). The final wine is made up of a finely-tuned blend of different harvests, each matured in oak for varied periods of time. It is the average age of these wines that define the overall age of the blend – in this instance, 50 years.
With 140g residual sugar and 20% abv, the 50 Year Old is a beautifully balanced, aged Tawny from Kopke winemaker, Carlos Aves. Pronounced intensity of dried fruits such as fig and prune, together with walnut notes, cut through with a beautiful seam of fresh lemon drizzle acidity, perfectly balancing the residual sugar. Further complexity from time spent in barrel, all concluding on a lingering, evolving finish.
Blending is key in determining Kopke's truly unique Tawny 50 Year Old and the masterclass took us through a few of the tricks of the trade. This was a real insight into just what it takes to become a Master Blender and the extreme skill and experienced tasting ability required for such an important role.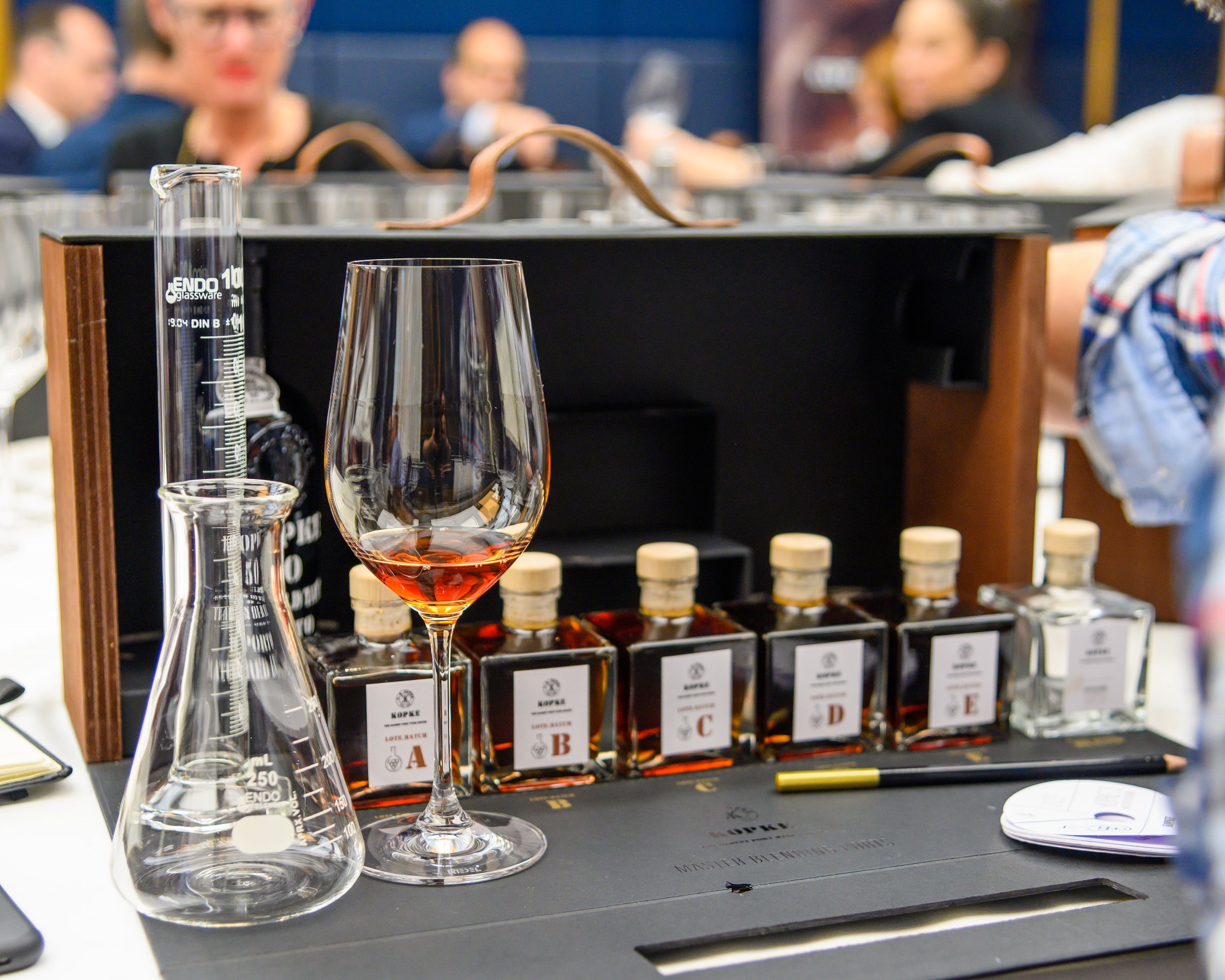 What are the secrets behind creating the perfect blend?
To quote Dirceu Vianna Junior MW, 'Vintage Port is a gift of Mother Nature, Tawny Port is Art'. Breaking the Tawny 50 Year Old into its composite parts of different batches of wine was truly fascinating; with each element, giving a certain quality or characteristic to the final wine. The balance and ratio of these elements was key: One batch used in the blend was chosen for its amber colour and nutty, spicy aromas. Another batch provided woody complexity through notes of vanilla and smoke, in addition to a harmonious balance between sweetness and acidity. A batch of older wine 'educated' the final blend, providing the complexity and sophisticated palate that comes with age, whilst the fourth batch gave the final blend a gentle saline twist, capturing the sea spray of the Atlantic, which lies 3km away from the Kopke cellars.
How would you serve a Tawny/White Port?
Top tips from the masterclass are to enjoy these styles chilled, presenting them as you would a fine wine rather than a fortified one. Experiment with wonderful pairings that highlight the versatility of these styles, such as pan-fried scallops paired with White Port.
Port tongs can be used to quickly remove a cork from a bottle, and are often useful when opening particularly older bottles of Vintage Port, where there is greater risk of the cork crumbling and spoiling the wine.
Using Port tongs is simple
1. Stand the bottle upright
2. Heat up the metal tongs, this is usually done in the coals of an open fire
3. Grip the neck of the bottle firmly with the tongs for 30 - 40 seconds
4. Replace the tongs with a damp cloth (the change in temperature results in a clean break, causing the neck of the bottle to break off, together with the cork)
Discover the Kopke range we stock at Hedonism Wines.
All photos by Natalie Tkachuk.
Article produced with thanks to Hayward Bros. Ltd, Sogevinus Fine Wines and SPRITZ Marketing for the invite to the Masterclass 'Celebrating the Art of Blending Tawnies with Kopke' held at 67 Pall Mall on 24th May 2022.