Hedonism Meets... Drew Mayville and Harlen Wheatley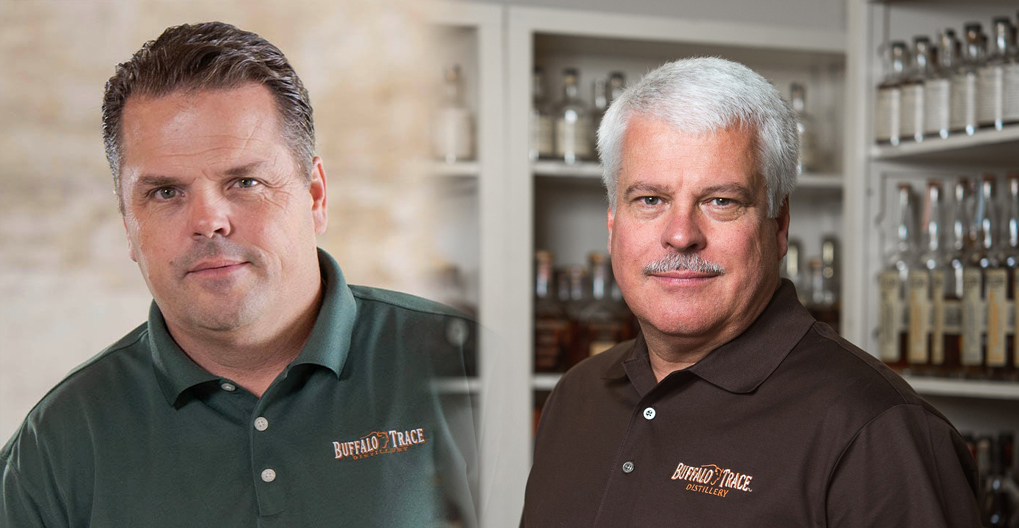 Drew Mayville and Harlen Wheatley are both titans of American whisky. Drew is Master Blender at Sazerac and Director of Quality at Buffalo Trace and has more than forty years in the industry. Harlen is the Master Distiller at Buffalo Trace and a four-time James Beard Award nominee in Outstanding Wine and Spirits Professional category. We sat down for a chat on Bourbon, Rye and all things Buffalo Trace.
Buffalo Trace Distillery has been making bourbon for over 200 years, what sets it apart from other distilleries? 
Harlen: We've been making bourbon whiskey the same way for more than 200 years. We've overcome Prohibition, the Great Depression, numerous floods, and two World Wars and never stopped making whiskey - our dedication to our craft is unrefuted and is what makes us the world's most awarded distillery. 
Drew: Over the years, Buffalo Trace Distillery has stood firm in the face of the changing tides. We've overcome a number of obstacles, which has made us who we are today; the world's most awarded distillery. Our ethos is to make fine and good quality bourbon. We are really proud to be the world's most awarded distillery and we are continuously striving and improving to be even better.
The history of Buffalo Trace is a rich one - but what is the most surprising thing about the history of the company/bourbon?
Harlen: Buffalo Trace Distillery is so full of history that it's almost hard to choose one. But let's start at the beginning, our name comes from a historic "road" used by Buffalo to travel from the salt-rich land of Kentucky to the Illinois prairies - it's this land and the river that flowed that is inherent in the bourbon making process. 
"We are really proud to be the world's most awarded distillery"
Drew: In 2013, Buffalo Trace Distillery was named a National Historic Landmark, which shows the historical value of the distillery and the work done here. The Old Taylor House built in 1792, as well as warehouse A and warehouse B built in 1881, are all still part of the distillery grounds.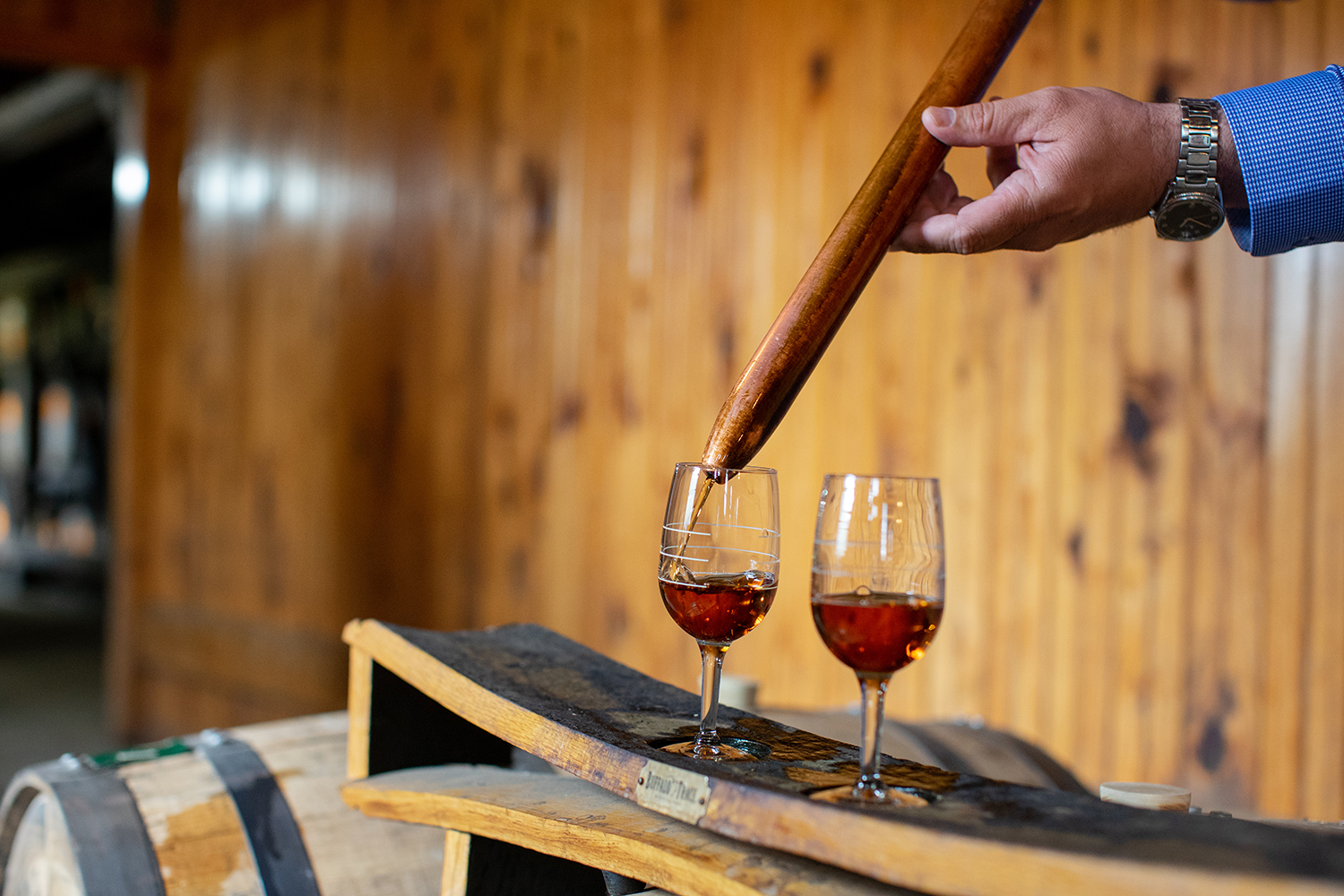 This idea of 'Stand Strong' is inherent to the brand. How have the people of the distillery stood strong over the years? 
Drew: As the ancient buffalo carved paths through the wilderness that led American pioneers and explorers to new frontiers, Buffalo Trace Distillery has crossed a few bridges and Stood Strong against the tide in modern times too. The tornado of 2006 saw parts of the distillery destroyed and a determination to rebuild and preserve after the disaster. Whilst the Derby Flood of 2010 showed our determination to save necessary equipment to keep the distillery running
"Each barrel is hand-picked and Bottled in Bond at 100 proof to honour its namesake"
As Covid has hit, we've managed to keep the distillery running to make bourbon, whilst also producing hand sanitizer for various organizations in need. We're also proud to be the oldest continually operating distillery in America and to give back to our community in Frankfort. It's examples like these which makes Buffalo Trace Distillery unique - we're rich in history and people are at the heart of what we do. 
Harlen: Since the start, we've been determined to make high quality bourbon. One of the founding fathers of the bourbon industry, Colonel Edmund Haynes Taylor, Jr. fought for the Bottled-in-Bond Act of 1897. During his time, Taylor implemented several innovative methods still used today, including climate controlled ageing warehouses. Many of the barrels selected for the E.H. Taylor, Jr. Single Barrel are aged in Warehouse C, which was built by Taylor in 1881 and has proven to be an excellent aging warehouse. Each barrel is hand-picked and Bottled in Bond at 100 proof to honour its namesake.
More recent examples of those in the distillery standing strong include the recession in the 90's with Buffalo Trace getting down to less than 50 people to overcoming and surviving this to see the over 592 working in the distillery today.
How has Buffalo Trace adapted to a world in lockdown?
Drew: In response to the pandemic, the distillery started bottling hand sanitiser, which we started producing on March 27th 2020. The hand sanitiser was made for some of the world's largest organisations in healthcare, government, military, retail, airline, pharmacy and financial industries.  
Harlen: We have modified all our processes to include CDC recommended procedures to minimize contact while maintaining full production throughout the facility.  We are continuing to add sanitizing stations throughout the facility and restricting contact as much as possible.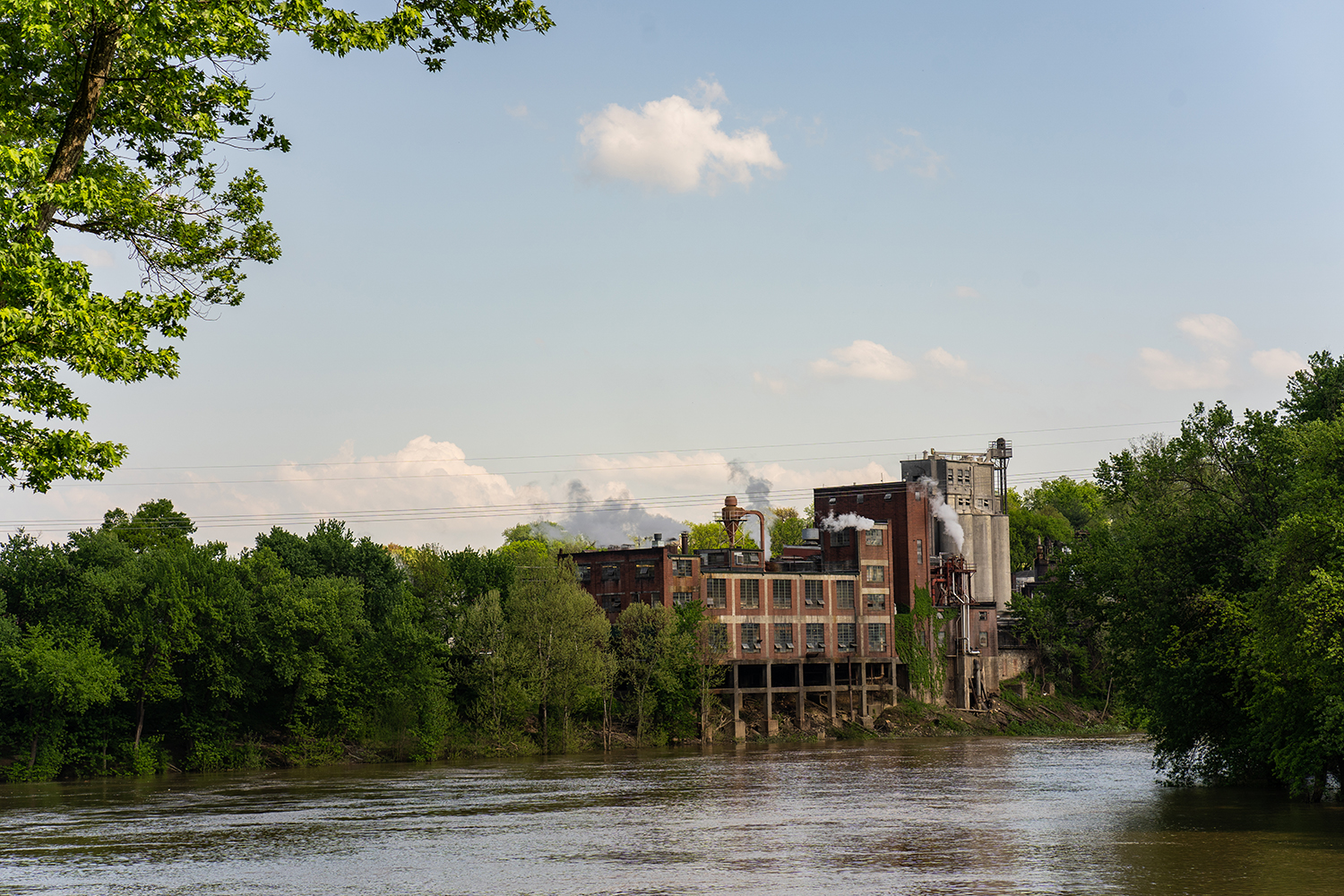 What are the misconceptions about Bourbon or things someone might not know about it? 
Harlen: Good answers below and there are common misconceptions all over the internet.  I always think it a good idea to look up the definition of bourbon whisky as described by the TTB regulations: Whiskry produced in the U.S. and not exceeding 80% alcohol by volume (160 proof) from a fermented mash of not less than 51 percent corn and stored at not more than 62.5% alcohol by volume (125 proof) in charred new oak containers.    
"

Warmer weather creates faster ageing times that are balanced with warehouse and barrel specifications"
Drew: 1. Bourbon can be made anywhere in the United States – However, Kentucky is responsible for 95% of the bourbon made and distributed worldwide. 
2. All bourbon is whiskey, but not all whiskey is bourbon - what makes bourbon distinct from other whiskies is the way it is manufactured and aged. Buffalo Trace, for example, is aged for longer than most of its competitors. All whiskey is spirit made from fermented grain and then aged in barrels, however, the kind of grain and the kind of barrels determines the variety of whiskey. 
3. Bourbon is made with at least 51% corn with no added flavours or colours
4. Un-aged bourbon is called white dog - In Kentucky, pioneers distilled whiskey using traditional methods and drank it right off the still and this was called White Dog. This raw distillate was clear, un-aged and had a hint of sweet corn
5. Only aged in charred new oak American Barrels containers- this is usually charred new oak barrels and is vital in developing the taste profile of bourbon. 
Can you talk a little about the ageing process for fine Bourbon as it's quite different to that of single malt Scotch? What role does the warm climate of Kentucky and the positioning of the barrels within the warehouse play?
Harlen: The ageing process is similar to that of Scotch, however, the conditions are quite different.  The weather in the US and especially KY experiences four seasons that are typically drastically different related to temperature and humidity.  For Bourbon we are required to use brand new charred oak barrels vs. typical used barrels for Scotch.  When you combine the environmental differences with the barrel differences, it creates quite different results as evidenced by the products.  Of course, the warmer weather creates faster ageing times that are balanced with warehouse and barrel specifications. 
What are the Top 5 bourbons that have come out of the Buffalo Trace Distillery?
Harlen: 1. Buffalo Trace of course – The heart and soul of the Distillery
2. Eagle Rare – Fantastic bourbon with plenty of age to drink neat.  
3. G.T. Stagg – Everything you love about Rye Bourbon.
4. Pappy – Most renowned and has enough age to earn your respect.
5. Blanton's – World's first single barrel that put premium bourbon on the map.  
Drew: 1. Buffalo Trace – the most perfectly balanced bourbon.  
2. Buffalo Trace Antique Collection- the most sophisticated, complex, and best tasting whiskey collection. 
3. E.H. Taylor 4 grain – the taste is out of this world. It's like a perfect blend of a rye and wheat bourbon. 
4. Weller 12YO – hands down, the best taste and value in the marketplace. 
5. Experimental collection – it's like tasting innovation. Any one of them is always exciting to taste. 
What is your favourite bourbon serve?
Harlen: My favourite bourbon is typically a Rye Bourbon.  I like trying different cocktails that are bourbon heavy along with appreciating the art of enjoying a bourbon neat.  It's all good.  
Drew: My favourite is Buffalo Trace. It's the everyday gold standard. An exceptional bourbon. 
Along with some of the world's greatest American whisky, you also make a mind-blowing super-premium vodka called CLIX – what's the story behind that?
Harlen: With CLIX, it started as a project to produce the best tasting vodka possible with our MicroStill system. We wanted to have very tight control of the process and produce the vodka in very small batches. We are focused on delivering a unique experience with a product that cannot be found anywhere on the market. Our website describes some of the processes but it is a very time-consuming process that combines the unique vodka with a very creative package with hand blown glass and a high end decorative wooden box.