Balvenie's sister distillery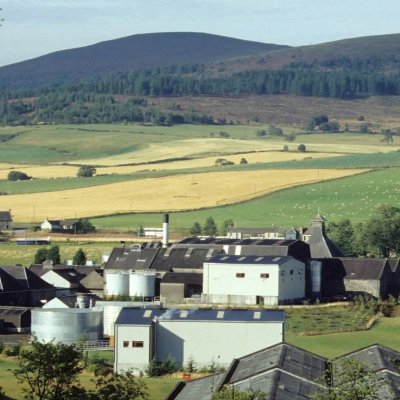 Located just 200m from the Balvenie distillery in the unofficial Speyside distillery capital of Dufftown, Kininvie was established by William Grant and Sons in 1990 as a source of malts for their blended malts and blended whiskies. Along with Balvenie and Glenfiddich, it forms a trio of Grant distilleries in the town of Dufftown.
Owing to the fact that it its barley is mashed and fermented at Balvenie, Kininvie is often seen as merely an extension of the latter distillery, however the unique floral character of its new make means it continues to attract the interest of single malt aficionados.
The first Kininvie single malt releases were the occasional Hazelwood limited-edition bottlings named after the home of Janet Sheed Roberts, the granddaughter of William Grant and famously the oldest woman in Scotland.
Kininvie started bottling single malt under its own name name in 2013. The first was a 23-year-old bottled the year the distillery went into production. In 2015, Grant introduced the House of Hazelwood line of blended whiskies, in which Kininvie was included. In addition, in 2019, the innovation project Kininvie Work released three 'experimental' Kininvie whiskies: a triple-distilled single malt, a single-grain whisky and a unique distillery blend.